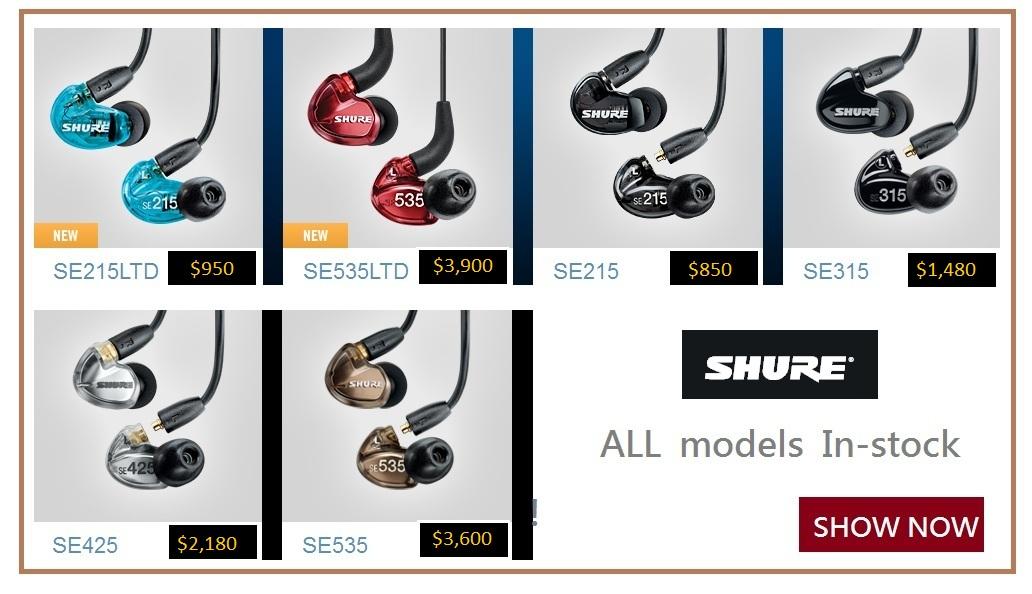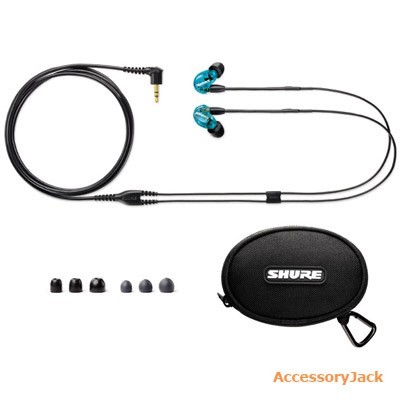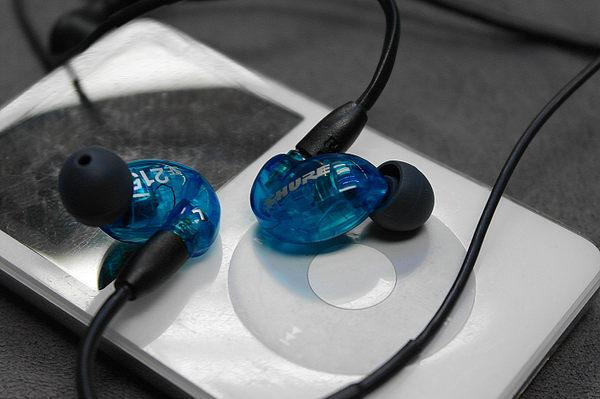 Shure SE215 Special Edition (Blue)
Shure SE215 Special Edition in Translucent Blue is a specially tuned model from Shure. With the optimized cable length at 116cm instead of standard 162cm one, it fits better use with your portable daily use on your smartphone music listening. Featuring Dynamic MicroDrivers, the SE215 has a newly tuned acoustic network to deliver detailed sound with extended low frequency performance. A distinctive translucent blue earphone color offers an exclusive look, and a detachable cable and multiple sleeve sizes ensure a comfortable fit and lifetime of use. Available in Translucent Blue.
Shure SE215 Special Edition 是一款 Shure SE  入耳機,聲音細節表現細膩飽滿,低音強勁。 耳機借助柔軟彈性耳塞套消除背景雜音。無論您是在舞臺上、火車裡、或是正在街頭或健身,都能專注於您的音樂。SE215採用動圈式微型發聲單元,具有全新優化的聲學機構,提供豐富細膩的聲音,並且提升了低頻性能,帶來身靈其境的聽音體驗。配備可塑形線材套件的可拆卸式線纜 + 優化線纜長度 ..
Details :
Detailed sound with enhanced bass so you can hear the details of your music
Sound isolating design locks in sound and blocks out noise
Lightweight, low-profile shape with optimized nozzle angle rests comfortably in your ears
Detachable Kevlar reinforced cable is durable enough to withstand wear yet allows easy replacement in case of an emergency
Over-the-ear configuration keeps cables out of the way
Gold plated MMCX 3.5mm connector has a lock-snap mechanism allowing 360-degree rotation for a comfortable fit
1-Year Limited Warranty
Included Fit Kit, which contains small, medium, and large sleeves, as well as a soft carrying case
Speaker Type: Single Dynamic MicroDriver
Cable length: 116 cm
Sensitivity (1kHz): 107dB SPL/mW
Impedance (1kHz): 20 ohms
Noise attenuation: Up to 37dB
Frequency range: 21Hz-17.5kHz
Input Connector: Gold-plated 3.5mm
Available in Blue
產品規格
揚聲器類型: 動圈微型發聲單元
靈敏度(1 kHz): 107 dB SPL/mW
阻抗: 20 Ω
頻率響應: 21 Hz - 17.5 kHz
線長: 116 cm
配件: 攜便盒
黑色海綿耳塞套(小,中,大)
柔軟彈性耳塞套(小,中,大)